Tam and Hall: To fix the nursing shortage, start with a little respect
We need to dismantle the prevailing perception of health care as a hierarchy.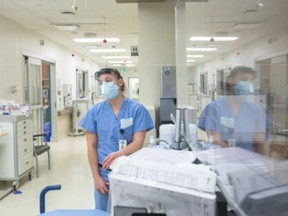 Article content
It should go without saying: highly trained and skilled nurses are critical to the function of the emergency department. Nurses are the members of the health-care team with whom our patients interact most throughout their stay. Recently, however, nursing shortages have been so severe that, in an unprecedented move, part or all of certain emergency departments or urgent care centres have had to temporarily close across the country, in rural and urban centres alike.
Article content
A critical nursing shortage has long been in the making: increasing scopes of responsibility without concomitant increases in pay, and a lack of clear and consistent requirements for career advancement are but a few reasons why the nursing profession has failed to attract and retain sufficient numbers of new recruits.
Additionally, bedside nurses in the emergency department are disproportionately at risk for workplace violence: more than 50 per cent of nurses in Canadian emergency departments experience verbal or physical abuse in any given week, a proportion that has only been exacerbated by COVID-19.
The pressures of the pandemic have further thrown these issues into sharp relief: our nursing staff are understandably burned out, choosing higher-paying jobs, or simply leaving the profession altogether. The current situation in emergency departments across Canada is untenable for both our patients and our nurses, who are already working to the full extent of their scope and physical capabilities.
Article content
In spite of this, requests for vacation time have been progressively denied, working hours are routinely extended, and the ratio of nursing staff to numbers of patients has increased, such that each nurse is now expected to provide care for more patients per shift than they are accustomed to. Recently, a study in an American emergency department demonstrated that, for every additional patient above four a nurse in an acute care department needs to care for, the higher the risk of poor patient outcomes, including length of stay and mortality.
It's time to recognize that our nursing colleagues deserve more respect and appreciation than they have been shown.
First, we need to remunerate our nurses in a way that is commensurate with their increasing duties as the backbone of our health-care system. There is a precedent for the way we have neglected to afford our nurses adequate wages or protections through the years: in 2016, nurses were initially excluded from Bill 163, which gave first responders such as firefighters and paramedics the ability to file WSIB claims for treatment of post-traumatic stress disorder. Despite the proven high-risk nature of their work, nurses were only included in this legislation one year later, after significant public advocacy.
Article content
In 2019, Bill 124 was passed to restrict wage increases for provincial employees, including nurses, to a maximum of one per cent a year, keeping pace neither with annual inflation nor the pre-existing or mounting pressures placed on members of the profession. Despite significant advocacy by nursing groups, there has been no commitment by the provincial government to repeal the bill. Any commitment to truly addressing our nursing shortage should begin with appropriate compensation for their work.
We also need to dismantle the prevailing perception of health care as a hierarchy. Instead, health care is decidedly a team profession, in which our nurses are the ones whose roles overlap the most with the entire team of allied health professionals to coordinate care for our patients. They are also often tasked with additional duties beyond those for which they are remunerated.
The public and political perception of nursing has not kept pace with the reality of the profession and the extent of what we ask our nurses to do. They need to be consulted and valued as key stakeholders in ensuring our health-care system can continue to function. This begins with affording them the respect and remuneration they so deserve.
Vivian Tam is a family-emergency physician in Ottawa. Follow her at @vtamster. Meredith Hall is a registered nurse in Ottawa.
Share this article in your social network
Source: Ross Arrowsmith